'Round about Pittsburgh: Gulf, Not Golf
Pittsburgh was once a city that boosted an empire of all sorts of businesses.  The Mellon Family, who in their own rights started an empire, established some of these businesses.
After numerous successful business ventures the Mellon Family decided to enter the oil business.   In 1901, they began when the Gulf Oil Corporation was established.  William Larimer Mellon was a founder and active leader of the company for 45 years.
At the time, it may have been considered a risky decision considering John Rockefeller controlled the industry with his company, Standard Oil Company.  Over the years, Gulf Oil would expand over the years to become one of the largest oil company's in the world.  Gulf Oil changed the industry forever when the company opened the first automobile service station, now known as a gas station, in Pittsburgh December 1913.  The company was also responsible for introducing complimentary road maps.
Completed in 1932, the Gulf Building formerly the headquarters for Gulf Oil is now known as the Gulf Tower.  The art deco skyscraper was constructed under the guidance of the Mellon family.  Until the U.S. Steel Tower was completed in 1970, the Gulf Tower was Pittsburgh's tallest skyscraper.
The Gulf Tower is widely known in Pittsburgh for its popular weather beacon that for a number of years displayed Pittsburgh's forecast on top of the building.  At night, the original weather beacon utilizing neon lights and the colors of Gulf Oil, blue and orange, would either flash or stay constant to indicate the weather.
Years ago, the weather beacon disappeared during the energy crisis.  Recently a new version of the weather beacon returned.  Although the new weather beacon is slightly different than the original, it provides the city of Pittsburgh with something unique that is not available in any other city.
Below is how you can read the new Gulf Tower Weather Beacon:
Temperature (Top Floors):
Red: 80 Degrees and Above
Orange: 66-79 Degrees
Light Orange: 50-65 Degrees
Light Blue: 33-49 Degrees
Medium Blue: 0-32 Degrees
Dark Blue: Below 0 Degrees
Precipitation (Floor 41):
Red-Purple: Above .25 Inches
Blue-Purple: .25 Inches & Below
Humidity (Floor 40):
Dark Green: 50% and Above
Light Green: Below 50%
Wind Speed (Floor 39):
Bright Pink: More Than 10 MPH
Pink: 10 MPH and Less
About the Contributor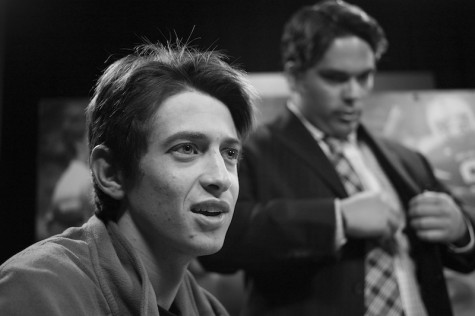 Mike Funyak, Staff Reporter
A Senior Business major with a concentration in Management at Robert Morris University, Mike is a Staff Writer and Blogger for "The Sentry."

In...