Say Yes, To Dr. No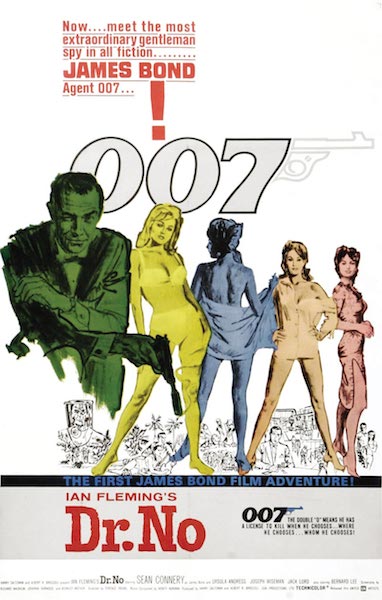 A little while back I was lucky enough to find one of those smoking hot movie deals that come in the form of packs. Any situation where I can get multiple movies for $5 is a good situation. It's even better when the movies are actually good. Lucky for me, I found myself in that situation when I discovered a pack of all the James Bond movies starring Sean Connery. As you can guess, I spent an entire weekend watching them all and decided that I should do a review on one of them.
Naturally I ran into the issue of which one to review. Goldfinger? From Russia with Love? Thunderball? You only live twice? Diamonds are Forever? To pick my favorite would be impossible. I decided to take the easy way out in this tricky situation, and am going with Dr. No for the singular reason that it was the first Bond film ever made.
I won't bore you by going on and on about who 007 is (I'm sure you've got a basic idea), nor will I bore you with why Connery is the best incantation of him (It's an argument that really could go on forever, and I'm trying not to anger any of the Bond super-fans out there), instead I'll just skip right to the synopsis of the movie.
After the mysterious death of a fellow MI6 agent John Strangways, secret agent James Bond is sent to the tropical paradise of Jamaica to investigate his murder. He's sent there to explore the possibility of a connection Strangways had with the American CIA, and to also check up on a group of assassins known as "The Three Blind Mice." Upon his arrival at the airport, you'll get to experience some of that good, old fashioned Bond fighting that makes the series one of the best.
From there, Bond enlists the help of a man named Quarrel and a CIA agent named Felix Leiter. It's about that point in the movie where you get into the meat of the story. I won't spoil to much for you, quite frankly I feel like I've told you to much already, as I always say, half the fun of these movies is experiencing every twist and turn in the plot for yourself.
I'll say this if you're unsure of watching this movie. If you even remotely enjoyed the Daniel Craig Bond movies, check it out. The newest Bond movies are great and all, but there's something special about the original. Watch where the series all began, and you can see how impressively the story has expanded.
I know there are a lot of stigmas out there about movies made in the 50's, 60's, and 70's. They have a tendency to be low quality and technically unsound, but I'll give all the credit in the world to the people involved with this movie. Besides a few jump cuts and some semi-cheesy explosions, this movie is impressive on the whole. I'd say it's even better than some of the 007 movies that came out in the 90's and early 2000's (special effects aren't always a good idea, ie. Die Another Day's infamous "Surf Scene").
If you're looking for some good, stylish, classic fun, Dr. No is your movie. I'd even go as far to suggest that if you like Dr. No, to continue the series in order. It's a pretty cool experience watching all the movies unfold in natural order, something I think is one of the best things a movie viewer can do.
Do you agree with me? Is Sean Connery the best version of Bond? Who's your favorite?