Magicians win Comedy for a Cause
On Nov. 8, Robert Morris University's Residence Hall Association hosted the second annual Comedy for a Cause. This event was to get members of RMU's community to put together a comedy skit that could win up to $500 for a charity for the group's choosing.
The event started at 9:15 p.m. the with Jess Bauer, president of RHA, introducing John Tucci, who sang military songs in tribute for Memorial Day.
Once Tucci's performance was complete, Bauer introduced the first act — Phi Delta Theta. These members put on a comedy act that was full of magic tricks that made the audience laugh. Some of these tricks included turning water into wine with the help of an audience member and red dye, as well as juggling lemons and making them disappear by throwing them towards the audience.
"I think this is really funny, the total opposite of a magic show," explained Sarah Jackson, who came to the event for a laugh. "Cracked me up."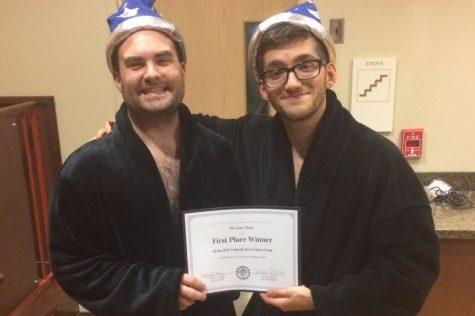 Bauer came back onto the stage to introduce the second and final act of the night — Phi Mu Delta. These members did an audition act where they had two members dance to a song while trying to impress members of the "ChippenRomo's" committee. Both guys ended up with their shirts off and made the crowd laugh.
After both groups had completed their acts, the judges, Steve Walsh, Romo's staff member, and Holley Nedley, the RHA Faculty Advisor, came to a conclusion of who had won. Bauer announced that Phi Delta Theta's magic show had won. She also announced that both groups will be getting $500 for a charity of their choosing.
Once Phi Delta Theta collected the first-place certificate, William Brown expressed how he came up with the idea.
"Well, I had a friend, he brought the idea forward and then he dropped out last minute, so it was either don't do it and lose the money or have a good time, so we just decide to follow through with it," said Brown.
Phi Delta Theta will be donating their proceeds to the Amyotrophic Lateral Sclerosis Association (ALSA) specifically the Live Like Lou foundation.
Second-place Phi Mu Delta member Ian Morrison explained how his group came up with their skit.
"We kind of put it together last minute, we couldn't really think of ideas so I just came up with this last minute," said Morrison.
Phi Mu Delta will be donating their proceeds to St. Jude Children's Research Hospital.