RMU Band talks about preparing for performances and playing in a pandemic
MOON TOWNSHIP– The pandemic changed many different aspects of our lives. It made going to grocery stores different, eliminated the possibility of attending sporting events and halted seeing live music performances.
The RMU Band had to make several different changes to their traditional approaches of making music in order to continue operations.
When RMU announced that they would be having an in-person Fall semester for 2020, Elisabeth Charles, the director of bands at Robert Morris University, knew that she and her performers would have to get creative if they wanted to continue to make music.
"In my 40 some odd years of teaching, I have never had a year where we have had a pandemic and I know I'm not alone," said Charles.
To begin this process, Charles and a board that she is a part of called, The College Band Directors National Association, began working over the summer of 2020. The organization's goal was to figure out a way to perform with musical instruments in the safest way possible.
"Our leadership team jumped on this really quickly," said Charles. "They got organizations from around the country to fund research at the University of Colorado and at John Hopkins."
With research underway and Charles began attending seminars that helped in creating safety in the fall months. She pitched some of the knowledge to her students, asking if they were comfortable trying to perform in the upcoming semester.
"We have a strong student leadership team in the band and all of the students said 'Yes, let's try it,'" said Charles.
As of April 13, Charles said that no cases of COVID-19 spread had been caused by the RMU Band.
One portion aspect of the band was naturally safe, though. When Charles and the marching band perform a halftime show on a football field, they are already separated by yard markers. Typically, roughly six feet apart. Due to their elongated slides, it was recommended that trombones be given up to nine feet of distance between the other players.
In an attempt to create more safety, the RMU Band also found different ways to play instruments, even through masks.
"We put masks on," said Charles. "The students put a small slit [in their masks] to put the mouthpiece in."
One piccolo instructor in Pittsburgh crafted a mask that allowed more airspace for that specific instrument. Similar instrument modifications were added to the rest of the band as well.
"We put bell covers on the ends of trumpets, trombones, mellophones and sousaphones," said Charles. "The woodwinds, because they have keys that air can go through, they were being put in plastic bags with just a little spot for your hand to go to whenever you played."
With all of the preparations underway, there were still some concerns for the upcoming process.
"We were all afraid because we just didn't know how dangerous COVID was. While our students are 18 to 21, I'm in my mid-60s and so they were also very concerned for me," said Charles.
Charles said that band members faced personal struggles since they were unable to be as close to one another as they were used to. She also mentioned that there were some musical problems that arose along with the physical distancing too.
"It was a little more challenging to blend, balance and listen," said Charles.
When it was all said and done, the RMU Band was able to come up with a successful product.
"I was so proud. They did it! They did a five-song show, a half-time show," said Charles.
Things were different for this half-time show though. Instead of performing in front of a packed crowd in Joe Walton Stadium, the band performed for a virtual audience on a live stream.
Since that performance, the band has continued to work. When the weather began to chill down, the musicians began to practice in Yorktown. In order to keep the number of people in an enclosed room small, for safety, the band was broken down into several key and important groups.
"We had two jazz bands, we had two concert bands, everybody did chamber music, flute ensemble, clarinet ensemble, brass ensemble, trumpet choir trombone choir, percussion ensemble, so they still got the beauty of making music but we just did it in a different format this year," said Charles.
Some of those groups will have the chance to perform in front of a student audience for the first time in over a year on April 18.
"Two of our wind ensembles, two of our jazz ensembles, the pep band and our auxiliary are going to perform from 4:30 p.m. to 5:45 p.m.," said Charles.
While the addition of an audience has the band excited, Charles says that the challenges have brought a good lesson for her performers as well.
"You've got to find that thing within yourself that says, 'I'm going to do my very best even though mom and dad aren't there watching and clapping or the student body isn't there,'" said Charles.
About the Writer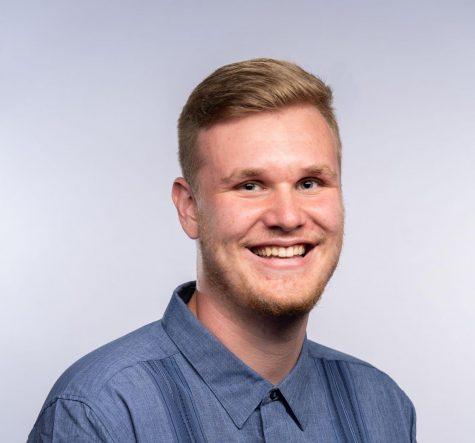 John Blinn, Head Arts & Entertainment Editor
John Blinn is a senior Communications major from Freedom. John can be found most of the time listening to the Foo Fighters. John is taking on two new roles...