How two Seneca Valley Raiders became Colonials together
In the world of sports, from professional teams to high school teams, the bond formed between teammates is always something extremely powerful. Frequently team bonds begin in high school athletics.
This was the case for RMU sophomore Maria Alfano and freshman Emily Devlin whose roots as teammates trace back to the volleyball team at Seneca Valley in Harmony, Pennsylvania. Their bond did not end after their high school graduation though as the two have found themselves wearing the same team jersey yet again, though this time it is at the collegiate level.
Maria Alfano made her Colonial debut on August 25, 2017, during a game against Stony Brooks where she recorded her first collegiate kill. Maria had a very busy season after her first game as she continued to make a name for herself by ending her season with 214 kills, setting her as the player with the third highest amount of kills on the team. Alfano did even better in regards to blocks though as she reached a total of 81, which put her second on the team.
While Alfano was introducing herself to the volleyball court here at RMU, Emily Devlin was back home leading the Seneca Valley Raiders. During her high school career, Devlin made the 2017 WPIAL 4A Pre-Season and Playoff Players to watch lists and made the 2017 Pennsylvania Coaches Association 4A All-State Team.
As Alfano's first volleyball season came to an end, Devlin was finishing her final season in high school and making the decision on where she should take her next steps. These steps, of course, led her to Robert Morris University.
"The fact that I have known the coaches for a long time, that it's a close school and I can see my parents a lot, and that they have a really great program here and that really guided me to play here," said Devlin about how she reached her decision to come to Robert Morris.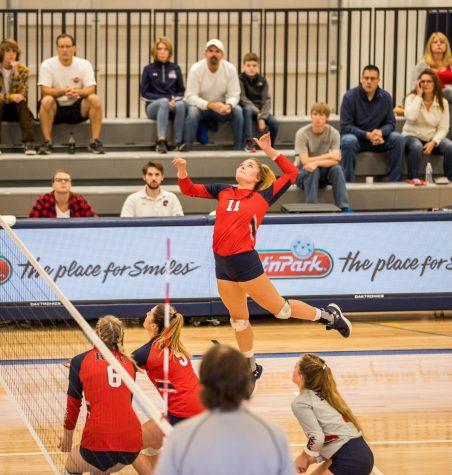 With Maria already playing for the Colonials, when Emily arrived, the two found a very pleasant surprise.
"Whenever Maria first committed, she didn't really tell many people, so it was a big shock to see that she was playing here," said Devlin.
Both of the girls were extremely excited to see the other and they took their mutual presence on the team as an opportunity to learn from one another and to use their prior chemistry to make the Robert Morris team stronger than it already is.
This chemistry was built a few seasons before when the two were fighting side by side for a WPIAL championship. The fight paid off too, as the 2016 Seneca Valley Volleyball Team claimed the WPIAL championship.
"Coming from Seneca Valley, we won the WPIAL together, so using those leadership skills it's very helpful," said Alfano.
Emily Devlin had similar ideas as to what the two's shared experience from the championship could do to benefit the Colonials in future seasons.
"Knowing what it takes to lead a winning team and then eventually building that together to lead this team definitely helps."
Winning the WPIAL Championship while at Seneca Valley played a massive role in both of the girl's athletic career. It acted not only as a learning opportunity, but it was also both of the girl's favorite moment from playing with one another.
"Winning the WPIAL, that journey, going to playoffs my senior year of playing, it was just really fun to pull it out in the end," said Alfano.
"Winning the WPIALs with Maria was just a really big moment in my life and I'm glad she was there to share it with me," said Devlin.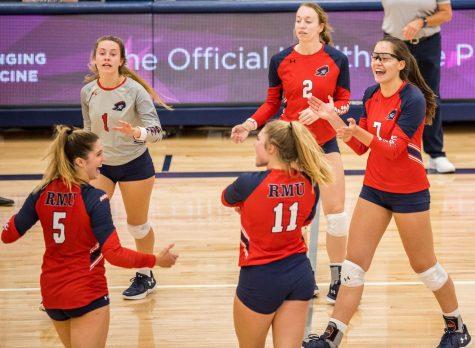 The duo's shared experience has already helped them while playing together at RMU with Alfano saying that they both know what the other is going to do. Devlin backs this up by saying that it's easy to communicate with her, specifically saying, "We just kind of flow together."
The chemistry was simply founded from the two being on a team together in high school, and now in college. Their relationship is more than just teammates though as they two help each other off the court as well.
"It's easy for me to talk to Maria when I have a question about something, especially since she's a year older than me, she's already had experience with school work and stuff," said Devlin.
"Basically whenever she just had a question I would answer it for her or just any advice she needed I think that I was always there," said Alfano.
The two are already excited about their potential experiences in college volleyball and plan to finish out the season with the continued optimistic outlook.
"Always bring positive energy to the court and contribute to winning, that's my goal," said Alfano.
To learn more about Maria Alfano, Emily Devlin and the rest of the volleyball team, click here.