Q&A: Leah Carlson adjusting to the ice-to-court transition
It's difficult for any athlete to switch sports, especially at D-1 collegiate level. That is the test that hockey-turned-volleyball player Leah Carlson has for her this year. After three years spent on Robert Morris women's hockey team, Carlson decided to go back to her high school days and play volleyball for the Colonials.
I sat down with her to find out just how difficult this transition has been.
Q: How are you adjusting to a new sport?
A: "Volleyball and hockey are very different. It's been very challenging, but fun at the same time. They're just both completely different like one's on the ice and one is in a gym. It's like a different atmosphere too. Volleyball is a lot more mental than hockey. Hockey is more read and react, but it's been good."
Q: How have your teammates helped you adjust?
A: "The volleyball team has been awesome. I've loved getting to know a new family. They have been so welcoming. I'm a fifth year, so I'm a little bit older and they have just treated me like the mom of the team. I think I was that way with the hockey girls. Also, it's been really fun, I get to see the hockey girls all the time. I still feel, even though I'm not on the team anymore, like nothing has changed. Now I have two families, hockey and volleyball, so it's been really fun."
Q: What are the toughest challenges in adjusting to a new sport?
A: "I would say it's been like five years since I last played volleyball. So just getting adjusted back to a new sport in general I think is hard, but just playing in gyms and on the ice is very different. Probably the most challenging thing was just learning again how to pass because that's what I'm doing. I'm kind of like a passer, so just learning that all over again in the proper form. In high school, I don't know if I was completely trained because I was always more focused on hockey. It's for sure different. Different training too."
Q: Can you describe some of the differences in training?
A: "Hockey is all legs. So like working out is different too. A lot more squatting and stuff like that. I think too with your hands you have to have that. Like volleyball is all arms, you have to be able to jump too. It's just completely different sports."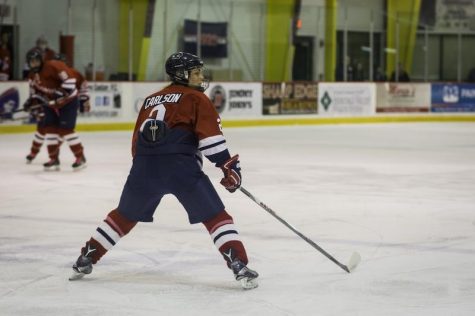 Q: Any similarities in preparing for the two sports?
A: "It's still just as intense. They're both very different sports. You still have to prepare the same way. You still mentally have to be prepared every game. I know in hockey, it's actually really funny, I used to play volleyball with one of my teammates before every game. I think that's kind of funny. Some people play soccer and I know a lot of the girls on the volleyball team do hacky sack before the game."
Q: How has hockey prepared you for volleyball?
A: "I think once you play at a Division I level, the sport isn't the same, but everything else is the same. Like everything is intense. You have to be on-time, you have rules, all this stuff. I think coming in I knew how much time it was going to be coming from hockey. It didn't necessarily prepare me for the volleyball part, but it prepared me just for what I was getting myself into. It's still going to be hard, it's Division I. It's not going to be, 'Oh let's just go play volleyball.' I think hockey helped me realize how intense it was going to be."
Q: What was it like playing hockey at Robert Morris?
A: "I had a blast playing hockey. I loved every moment of it. There were times, it was early practices. I am so thankful I got to come to school to play hockey, wouldn't trade it for anything. I loved my experience here at Robert Morris. Just feel so blessed to be on a Division I team. I think just being recruited all the way from Alaska it's kind of crazy I ended up in here in Pittsburgh."
Q: What was it like playing hockey in Alaska?
A: "I grew up on outdoor ice, so that's different. I grew up playing boys' hockey, so that's also different. I mean I think there's a lot of differences, but it's the same game. Still hockey."
Q: What was the difference between playing boys' hockey and girls' hockey?
A: "Girls' hockey — there's not allowed to be checking, so boys' hockey is more physical. There's a lot more hitting and contact. I grew up in a really small town and there's not enough people for a girls' team. I would just play up with the boys' team. I think the differences is just a lot more physicality. In the men's sport there's a lot more hitting, and in the girls' if you hit you get penalties. Hence why I probably led my team in penalty minutes."
Q: What was it like adjusting from Alaska to Pittsburgh?
A: "I think that I needed to, even though I'll end up back in Alaska. I needed to spend my college in a city, and it's different. They people are different, everything is different. I miss being in the mountains. But I think (the people) are the biggest adjustments. I had eight people in my senior class. Coming to college it was like, there's people all around me."
Q: Do you have any plans for after college?
A: "I am going to be a nurse. I'm going to pursue that career. I don't know exactly where I am going yet, but we'll see."
How well you can handle adjustments is important in life. Leah Carlson has adjusted from Alaska to Pittsburgh, from outdoor men's hockey to stadium girls' hockey, and now from hockey to volleyball. By making these adjustments and handling it all with a smile, it's safe to say that this volleyball player is ready to adjust to a bright future.