Students can get CHAARG'd up and empowered at RMU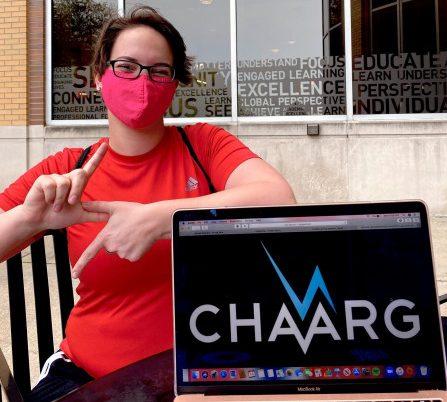 A new club at RMU is focusing on the motivation and empowerment of students through fitness.
Sophomore accounting major Rachel Welsh is the founding ambassador of CHAARG, which stands for Changing Health Attitudes and Actions to Recreate Girls.
"I discovered CHAARG during 9th grade on Facebook," said Welsh. "I came across a blog post from their website. I explored their website and learned that it was a college organization. I followed it from there until I could start a chapter at RMU."
Welsh said she wanted to start the club at RMU because of CHAARG's focus on not only physical health, but also mental health.
"I fell in love with (CHAARG) because of how uplifting it was and how the girls in it were supporting each other," said Welsh. "Usually when you think of wellness or well-being, it's always people working out to lose weight. That's not really their focus."
Welsh said no matter what a person's goals are, the members of CHAARG are there to support them.
"We have a lot of people who come in with eating disorders," Welsh said. "It really helps them to cope with that, to find other people who have those same things going on and to connect and work through it."
Due to COVID-19, the club is taking precautions by hosting events online. Students can still participate in activities even if they are not on-campus. CHAARG also hosts workouts featuring different studios from the area.
"Next week, we're having a barre class come in. We also have yoga classes and kickboxing classes," Welsh said. "We try to get as much variation as we can throughout the semester so that everyone can find out the workout that they like the best."
Katerina Panopoulos, a junior environmental science major at RMU, joined the club after Welsh contacted her via Instagram.
"I'm starting my own fitness journey this semester, so I joined to have a group that will help it and strengthen it by meeting others doing the same thing," said Panopoulos. "It's nice to have a support group."
The club also hosts small groups where members can interact with each other and do a workout in a smaller setting.
"We do this to build community and form connections It's also socializing and bonding, and you can form meaningful relationships with each other," said Welsh.
Panopoulos said that she enjoys working with the small groups and is excited about the future of the club.
"It's nice to get a feel of who people are and put faces to names even if it's virtual. (I'm excited to) get more people involved, not just student-wise, but with the weekly workouts with instructors," said Panopoulos. "Not that I don't love doing power cardio every week. It'll be nice to get some variation in the exercises we do."
CHAARG memberships start at $47 per semester. The money goes directly to the CHAARG national office, which uses the funds to cover liabilities and insurance for the studios. Whatever is left over is used for the club's social events.
"We host socials throughout the semester to let off steam and get to know each other," said Welsh. "It's not just about working out, but it's being together as a chapter and having fun. It's a break from college life stress."
Although the club's branding is directed toward women, Welsh said the club is welcome for anyone to join.
More information about the club can be found on the chapter's website and on their Instagram.