Top Secret Colonials host Pittsburgh comedian Matt Light
Light brings his dark humor to RMU
Scott McDanel, Assistant Arts and Entertainment Editor
October 21, 2019
MOON TOWNSHIP – The Top Secret Colonials hosted Pittsburgh native stand-up comedian Matt Light in the Westinghouse Ballroom in Yorktown on October 18. Light was also joined by fellow comedians Andreas O'Rourke and Natalie Moses.
Local comedians Andreas O'Rourke and Natalie Moses also provided some hilarious commentary on everyday occurrences such as waiting tables for fighting couples and dating in the 21st century.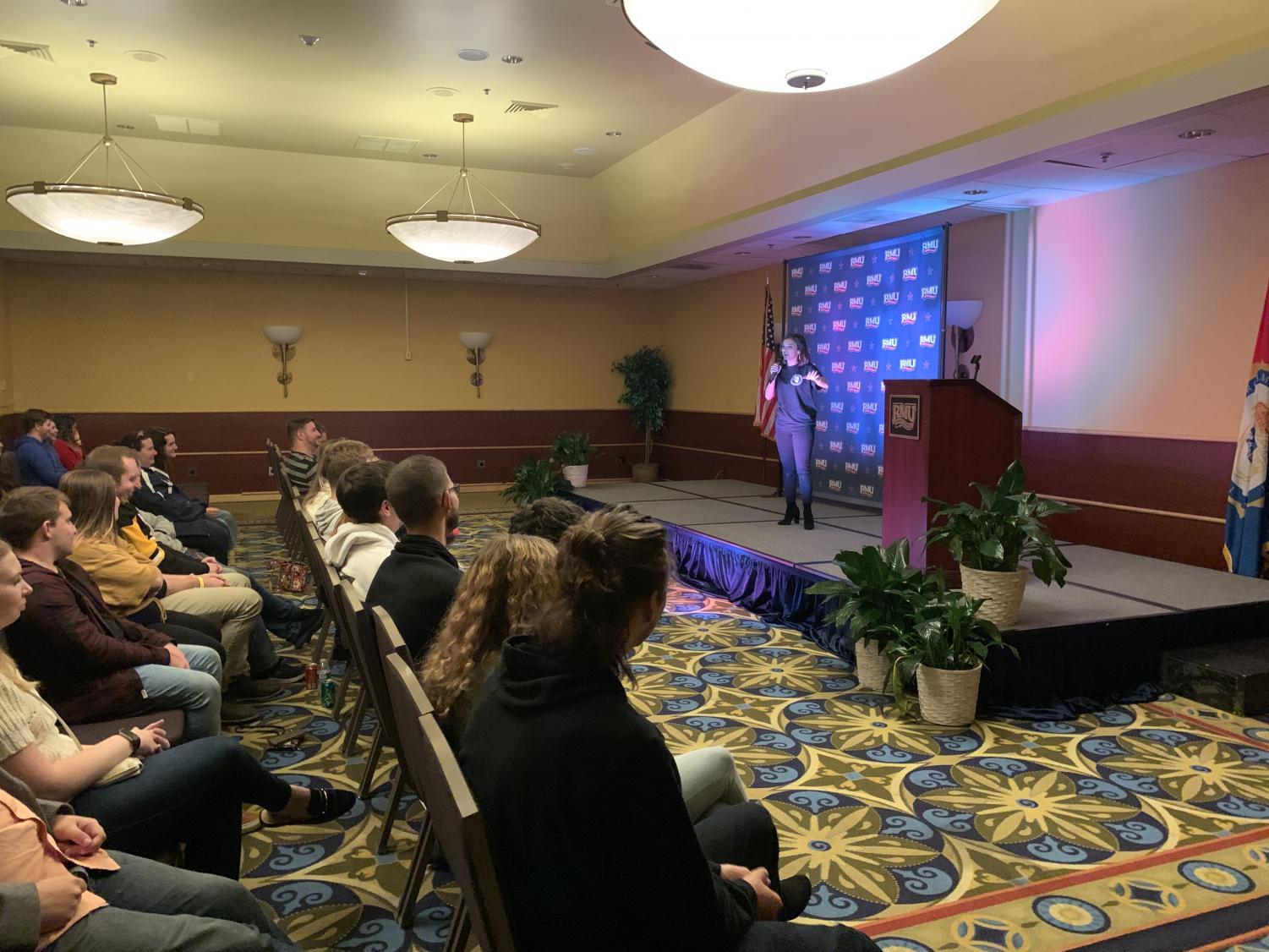 All three comedians came to Robert Morris University to spread cancer awareness and raise money for the Stanley M. Marks Blood Cancer Research Fund. This is in part due to Light himself being a cancer survivor. In 2013, he was diagnosed with Hodgkin's lymphoma, a form of cancer that attacks the immune system.
"Dr. Marks was his doctor." said Keith Eckert, a long time friend of Light. "He gives back every year by doing a charity show and we were lucky enough to have it be here. The kids were looking for someone with a big name and we thought Matt was a good match for everybody."
Dr. Karen Paullet, Assistant Professor of Computer and Information Systems, as well as Top Secret Colonials Secretary and Vice Presidents Taylor Priore and Taylor Passerini, were important in getting Light to perform at RMU.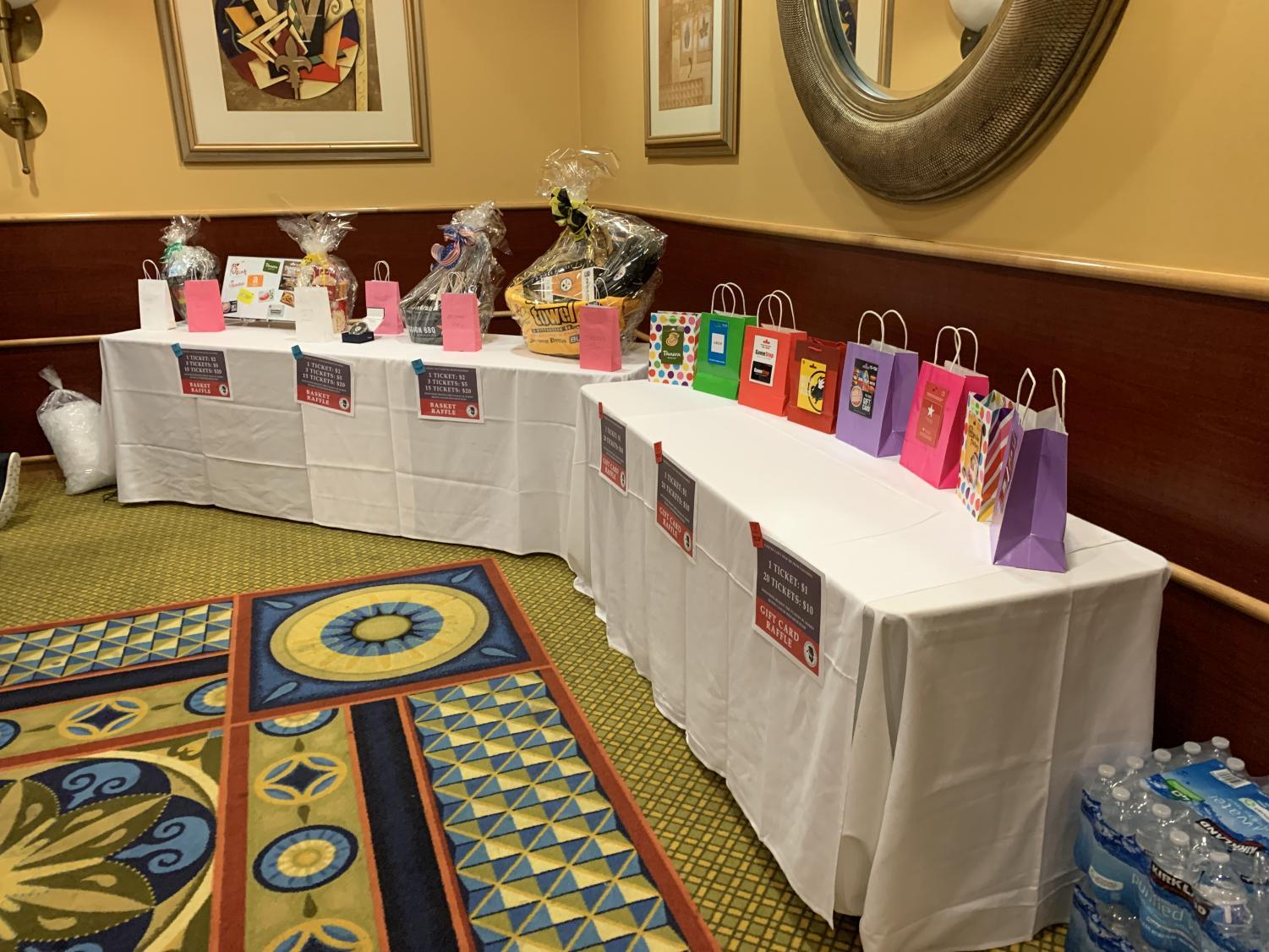 "It was actually Keith that got me here," said Light. "He knows [The Top Secret Colonials] through Dr. Paullet. A few members came to my show and afterwards they said: let's do it."
"We won a Shark Tank event last year," said Priore. "We were granted $1,000 to hold a charity benefit and we got the idea to have him come here."
RMU holds a special place in Light's history as a comedian, as it was the first college that he was able to perform his stand-up comedy.
"It was eight years ago," said Light. "A friend of mine was in a fraternity here, and asked me if I could do a show at Robert Morris. For me it was a big deal because I was only doing stand-up for two years and I had such a good experience here. I was never actually accepted to a college but being here feels the closest to being accepted for real."
Light is known for his special brand of dark humor. He held nothing back as his show covered a wide variety of topics. A sample of topics Light discussed included betting in a dead pool against the Pope, braille signs in drive-thrus and his interactions with The Make-A-Wish Foundation after his cancer diagnosis.
Even little things Light did had the audience laughing, such as drinking from White Claws instead of water bottles and messing with members of the Top Secret Colonials sitting in the front row.
Light said that if he were ever invited back to perform at RMU, he would do it in a heartbeat.
"As long as everyone is having a good time, and if I feel the atmosphere is good and everyone is enjoying themselves then why not do it? Especially if we are raising money for a good cause."