Yorktown hosts Oktoberfest celebration
RMU students sample German culture during Global Village event
MOON TOWNSHIP — Cultures collided Sept. 16 in the Yorktown lobby during Oktoberfest, Robert Morris University's spin on the two-week long German festival held annually in Munich.
Students gathered at 7 p.m. to sample traditional German foods such as bratwurst, pretzels and Obatzda, a Bavarian cheese delicacy, as well as butter beer in lieu of traditional alcoholic beer. The event was also an opportunity for students to complete a global SET credit.
The tradition of Oktoberfest began in 1810 to celebrate the marriage of a German prince and princess. Over 200 years later, the festival still draws millions of people from all over the world each year. In 2018 alone, over 7.5 million liters of specially-brewed Munich beer was consumed during the celebration.
The Community Adviser on the Global Village floor of Yorktown, Shraddha Divekar, took the lead in preparing for the event. She wanted to expose RMU students to cultures and traditions they may not have been aware of beforehand.
"You always see festivals like Oktoberfest, but what's the story behind it?" said Divekar. "I didn't even know what it was before I came here and it's really important to expose people to other cultures."
Divekar was presented with the unique opportunity to run her information by someone a little more familiar with the intricacies of the festival. She reached out to Lorenzo Pirrone, a German exchange student from the Technical University of Dortmund who lives in Yorktown.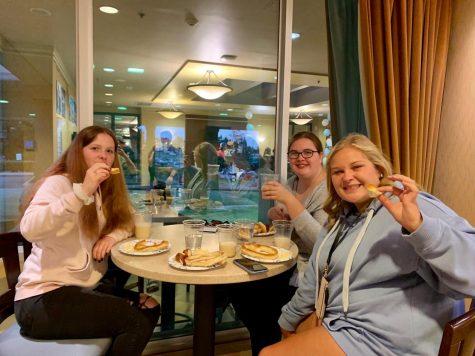 Pirrone went above and beyond fact-checking the festivities. He also prepared food, set up decorations and handed out flyers about his university in Germany. He stresses the importance of gaining new perspectives and emerging oneself in a different environment to expand understanding.
"Going out of your comfort zone is a necessary criterion in today's life," said Pirrone. "To be open-minded and curious is a great property of lifelong learning. It helps to get a better understanding of intercultural behavior and it trains us to interact with different types of people."
Pirrone encourages people to research Oktoberfest outside the event if they're interested. "It is really commercial nowadays and more a tourist attraction. Moreover, the original one in Munich is copied all over in Germany," Pirrone said. "But the basic idea behind it is that people come together to have a good time. So as a social event, it can be very useful to see old friends … it can be a good opportunity for a get together for people who don't live close to each other."
Yorktown resident Maddison Seitzinger cited the event as "really convenient," as she didn't want to travel to campus. "I was excited to learn about German heritage since I'm partially German myself," Seitzinger said.
"Respect for different cultures is so important," Divekar said. "When you get to see people experience things they've never seen before, it's really exciting."
RMU class officers will host another Oktoberfest event, held at the gazebo on Sept. 27, 2019. All students can use their Freedom Card to buy a themed meal, and those 21 and up will have the opportunity to drink and socialize with proper ID. More information is to come.