Michael Haines' legacy lives on
Sound learning, friendship, and moral rectitude: three cardinal principles of the Phi Delta Theta fraternity. They were not only the cardinal principles of the fraternity as an entity but also its Founding Father of the Pennsylvania Pi Chapter, Michael Haines.
Haines died prematurely as a result of a shooting last February allegedly by his co-worker of Garda Cash Logistics, Ken Konias. The two were scheduled to drive their armored truck to The Rivers Casino, as well as a Home Depot in the Pittsburgh area, making pick ups of cash at each location. En route, Konias allegedly shot and killed Haines and escaped with upwards of $2 million.
After over two months of running from the authorities, the law finally caught up with him. Konias was arrested in a Florida suburb, recovering $1.3 million, just a fraction of what was originally taken.
Konias will go to trial on Jan. 7, 2013, facing charges of criminal homicide, theft and robbery, according to the Allegheny County District Attorney's Office. The DA will not seek the death penalty in the case.
On Saturday, Sept. 1, an all-ages show was held in Haines' honor at the Altar Bar in Pittsburgh's Strip District. The show featured local Pittsburgh bands, such as Downplay, The Morning After, Model Class Citizens, as well as the headliner: Identity X, who has special ties to RMU and more specifically, Haines.
David Toole, a former RMU graduate and current admissions counselor, is the lead singer of Identity X. Haines is special to the band itself, too.
"Mike Haines was an incredibly strong supporter of Identity X," states the band's website. "Not only was he front and center at the first show, he was responsible for coining the name of the band!"
All of the proceeds of the concert benefited the Michael R. Haines Memorial Scholarship at RMU.
About the Writer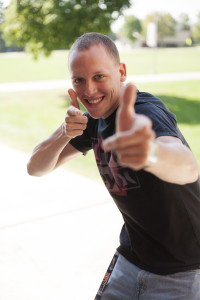 Patrick Ryan, Assistant News Editor
Patrick is a junior journalism major with a minor in photography at RMU. He is also the News Editor for RMU's student-run newspaper, "The Sentry."

In...