RMU student Taylor Hall finds passion and inspiration in photography
Taking photos from pastime to passion and profession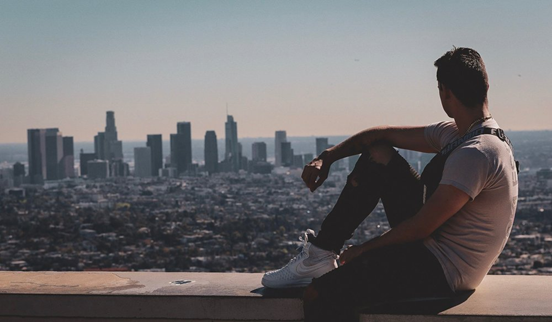 Editors Note: The original version of this story incorrectly stated that Hall came to the university on a basketball scholarship based on the reporters interview. After being alerted to the error through social media, Sentry Media talked to RMU Athletics and verified the statement was false. The story has been updated to ensure accuracy.
MOON TOWNSHIP — Some people dream of traveling across the United States at some point in their lives to pursue their passions. For Robert Morris University junior and public relations major Taylor Hall, this dream has already become a reality.
Hall has a passion for photography, and has already completed a minor in the photography program with the university.
"I needed something to really fill my time, and my friend was a photographer. And I really liked the idea of it," Hall said. "One day I had the money, so I went to go buy a camera. It was something very crappy, just a starter camera, and only a couple hundred bucks."
Once Hall started to learn more about the use of the camera and tested it out, he became intrigued by what else he could learn and understand about photography.
"I really fell in love with it. And I really liked where I saw myself and where I could see it taking me," Hall said. "Eventually I started getting really good at it, people noticed, and the rest is history."
Hall, who started photography about three years ago, has been traveling for one year and has photographed in New York, Los Angeles, Chicago, Miami, and Philadelphia.  He serves as the unit photographer for his HHC 1-110 unit.
His favorite memory comes from traveling to LA and seeing a view of California from above.
"Being contacted to get paid to shoot in LA and get flown out for free, live in LA for a week and be able to explore and make my way up the Hollywood sign was awesome," Hall said. "It is a four-mile trek up a mountain. The view you can see is LA, San Bernardino, the [Pacific] Ocean, and the valley. It was a very humbling moment in my life."
Madison Ray has worked with Hall and is as pleased by his photography skills as anyone she has ever interacted with.
"Working with Taylor has been the most comfortable experience I've had with a photographer," Ray said. "Every single encounter I've had with him has been amazing."
Douglas Porter, a close friend of Hall's, also had great things to say about Hall's work and character.
"Good man," Porter said. "He's someone that is motivated, he listens to ideas. I think he's himself, all the time."
Ray and Porter both feel that Hall's passion is what makes him so unique and skilled in his craft.
"Taylor eats, breathes, and sleeps photography," Ray said. "Between him editing and planning out new shoots, that's all he does every single day. His strengths when it comes to his photography are being able to take a basic location and shoot it in a non-basic way. And his editing is amazing."
Hall believes that if he can continue to improve his work that he can become a top-of-the-line photographer.
"I think I need to learn how to be not as nice, to be honest, stand my ground with my prices and have more corporate experience," Hall said. "I do a lot of freelance work with artists, rappers, musicians. I have done a few corporate shoots which is a lot of legal stuff. If I can get that (corporate) aspect down then I would officially consider myself a professional photographer."
The people around Hall also appreciate the ways that he takes photos, creating inspiration within his subjects.
"He's extremely passionate about what he does, and because of that, he gives me inspiration and motivation to think outside the box with what I do," Ray said.
"He is a photographer who loves his art and does a great job making you feel comfortable," Porter said.
Hall is happy he found a profession that he truly loves and appreciates.
"I've always been a very artistic person, and my freshman year I really did not have anything artistic going on in my life. And I was depressed about it, to be honest," Hall said. "When I got into photography my happiness came back."
Hall credits his continued success to the hard work and dedication he has put in to master his craft.
"Whatever you do in life just work your hardest and no matter what as long as you put the effort in you will get it back out," Hall said.
Hall can be found on his website, iamcombatcamera.com, and on Instagram and Facebook as @combatcamera_.