SGA update: Feb. 18 meeting
Hang on for a minute...we're trying to find some more stories you might like.
Monday's SGA Meeting was called into order at 5 p.m.  After addressing general business and and the standard officer reports, the meeting moved into the general discussion section.
For this week's meeting, members of the dining services board were present, including Neal Binstock, senior director of businesses operations, as well as other representatives from the dining services staff. With Binstock leading the conversation, the student government representatives and dining services staff discussed the future of dining services on the RMU campus. This is the breakdown of ideas for future dining at various campus locations:
Yorktown Hall (Holiday Inn)
– Yorktown Hall is expected to be fully used for RMU housing by the beginning of next semester.
– The basement of the Holliday Inn will be transformed into a restaurant/eatery  for RMU students.
– There is expected to be a bar in the new dining area to serve beer and wine.
– Meal plan money will not be applicable for purchasing alcohol.
– Possible hours of operation would be 8 a.m. to 12 a.m.
–  Grab and go portions would be made available throughout the day, but dinner entrees will be offered between 5 p.m. and 8 p.m.
– At 8 p.m., the menu will switch over to bar-themed food, including hamburgers, chicken wings, french fries and various other foods following these themes.
– Meal plan dollars will no longer be carved out of the meal plans of Yorktown residents for use at that location. Yorktown hall dining services will be offered to all RMU students.
Wheatley Center
– Among the most requested changes to the Wheatley Center's food services was the request to send Chef Ed back to the chef's table.
The Future School of Nursing
– One idea for the future eatery in the nursing building is a healthy option for those on-campus.
– SGA discussed the possibility of a fresh juice bar, as well as other fresh fruit options.
– Gluten free options were also discussed.
Business building
– The possibility of adding a new small eatery station in this building was discussed.
– SGA discussed adding a small coffee/grab-and-go station to the business building as a convenience to the students working and attending class there.
Starting after spring break of the 2013 spring semester, sushi will be offered at all dining services locations that stock grab-and-go foods.
This week's SGA meeting was adjourned at the conclusion of the dining services discussions.
The next SGA meeting will be held next Monday, Feb. 28, at 5 p.m. in the Franklin Center.
About the Contributor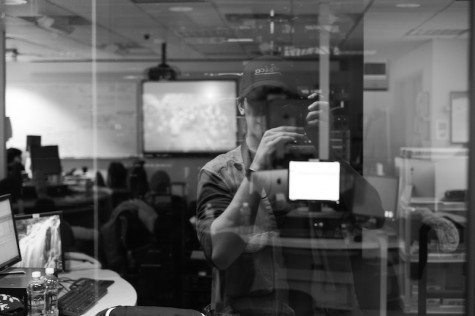 Paul Wintruba, Contributor
Paul is a junior photography major, and is a photographer for RMU Sentry Media.