Americanization: Embracing the American character
One of the most powerful and richest countries in the world, the United States, has seemed to have an influence on the people who migrate there, and it seems like a lot of the immigrants are Americanizing.
Being a sophomore, international student at Robert Morris University makes me think about how the U.S. may have changed me.
I definitely can say that I became much more mature, organized, responsible, and punctual, and the United States has done something special to my personality.
I think the United States made me free-spirited, solid about certain views, and independent. I became even more active, energetic and purposeful than I was before. I also become more honest than before. I used to cheat with a lot of little things, and every time I assumed that there would be no consequences. The best change in my life is that I started to care less about a number of things.
For instance, back home, I used to dress up, wear makeup for any occasion, even just walking outside to smoke a cigarette. I was scared that somebody would see me wearing my pajamas because Russian's care so much about others appearances as well as their own.
I am not the only person who has americanized. A lot of immigrants feel the same way. I have interviewed foreigners who stayed in the United States for different time periods and found that the more time people spend in the United States, the more they feel as if they have changed.
English school student, Hyun-joo Lee, from South Korea, was staying in Los Angeles for 3 months and did not notice any kind of personal change. Neither did Robert Morris University freshman, Michelle Schiewe, from Poland, nor University of Pittsburgh student, Yerzhan Baigaliyev, from Kazakhstan.
Although, the interviewees who have stayed in the United States for a short-term period did not notice any changes, but longer term immigrants have a different opinion.
Khulood Al Ali, from Saudi Arabia, has been in the United States for 2 years said that life in America has already changed her personality.
"I was a shy person when I came to the United States, I didn't want to share my thoughts, and wasn't social," said Ali. "Now it changed. I also became overly outspoken, independent, and responsible. I even changed my study and eating habits."
RMU senior, Katerina Rudneva from Russia, also thinks that the United States has influenced her.
"America changed my way of thinking; it has made me more open minded," said Rudneva. "I also started taking a lot of things for granted here in the U.S. that are not present in Russia – like people being nice and friendly to you, random people not staring at you, judging the way you're dressed and so on. That experience also made me realize how much I appreciate my own cultural background and that no matter how much I want to stay in the U.S. I would never forget where I came from."
RMU student, Carla Limon, was staying in the United States for 3 years. She was positive about how the United States has changed her.
"I am more open-minded now," said Carla Limon. She also started to feel more independent and wear different kinds of clothes now.
Her cousin Jose Manuel Limon, who is also a current RMU student from Mexico, has been in the United States since 2008, and he has noticed that he has changed a little bit.
"America changed my way of thinking," said Jose Manuel Limon. "It's made me realize what I have."
Aigera Tungyshbayeva, a junior at Robert Morris from Kazakhstan, has been here since 2006, thinks America made her "more-open minded."
About the Writer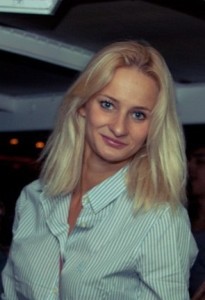 Yulia Vasilyeva, Assistant Ad Manager
Yulia Vasilyeva is a junior at RMU majoring in journalism and advertising.

Yulia is the assistant advertising manager and a staff writer for "The Sentry".

She...