Kelley named to All-NEC First Team
Announced last night by the Northeast Conference, RMU women's soccer forward Kristina Kelley was named to the All-NEC first team as one of the best forwards in the conference this season.
Kelley finished the season with nine goals, seven assists and 25 points which placed her second in the conference only behind Alyssa McGhee of Saint Francis University, who was named the offensive player of the year by the conference.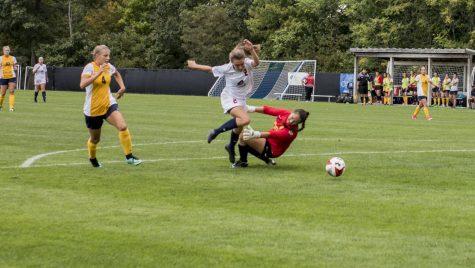 Other notable players from Robert Morris being recognized are Jane Schleicher, who was named to the All-NEC second team. Schleicher finished the year right behind Kelley with eight goals and three assists, totaling 19 points on the season. That total was good enough to be tied for fourth in the NEC for scoring.
Breakout freshman goalkeeper Sydney Bruckner, who finished the season with a 1.44 goals allowed average and three shutouts, was named to the All-NEC rookie team for her performance in net this season.
The team will return all three of these players next season as the team looks to rebound from a 6-11 season that left them on the outside looking in as the NEC playoffs begin today in North Jersey.