Powers, Ghantous ditch ties for jerseys
Freshmen defensemen get into the lineup against #13 Bowling Green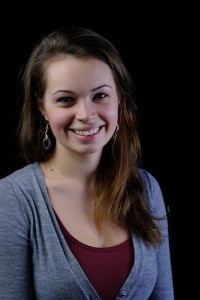 More stories from Haley Sawyer
Freshmen defensemen Robert Powers and Elie Ghantous wear suits to games, just like everyone else. The only difference between them and everyone else is that they usually keep those suits on throughout the duration of the game.
Entering the weekend, Powers had five games to his name. Ghantous had his first one on Sunday night in a 4-1 loss to #13 Bowling Green.
Ghantous' nerves were evident as he awkwardly, almost politely, navigated his first shift. One secondary assist on a Scott Jacklin goal and one period later, he began to settle into himself.
"I've got to admit the first shift I was definitely nervous, but after that the butterflies went away," said the blueliner.
"Usually after my first shift I get used to the speed and everything that's going on out there so after that I felt okay. If felt like I could keep up. It's my first game so it kind of a measuring stick for me."
As Ghantous was busy blocking shots in the second (three total), Powers worked in synchronization with defensive partner Chase Golightly.
Golightly's got the speed. He takes pucks deep while Powers, who's got the physique of a bulked-up string bean, keeps the defensive zone on lockdown.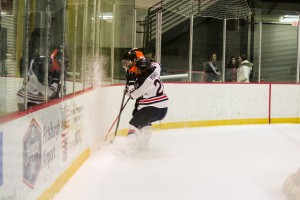 "We compliment each other," said Golightly. "It's give and take. If I see him jump up, I hang back and if he jumps up, I hang back. It's reading the play and he did a good job."
"It's an instant chemistry. I really like frank off the ice and one the ice he's a really good players, so it's really easy," concurred Powers. "We talked a lot and we played well together."
Ghantous was paired with Tyson Wilson, with which he received very nearly equal shifts as Powers did with Golightly. Working on a line with one of the strongest skaters and instinctive defensemen in the lineup can help a rookie learn a lot.
One thing that cannot be taught, however, is a mean streak. Ghantous had a brief confrontation with Bowling Green's Jakob Reichert. Harnessing that competitive fire can give a player an extra edge.
"I'm definitely kind of a tough guy on the ice. That's kind of my role," said Ghantous. "He was just kind of chirping me and I was just retaliating, but not in a consequential way."
After six games, Powers has taken strides in a never-ending process.
"There's always something you can take away, something from the older guys, the coaches or anything," said Powers. "I think I've done pretty well transitioning so far and kind of coming in to college hockey but that's the one thing is you never have to stop learning."
Similarly, Ghatous is focusing on his own next step.
"I just focus on myself. I stay after practice another half hour work on my skills. I can control what I can control and that's my body and me staying in shape so that's what I'm doing. Getting ready for a game whenever (they) need me."
About the Contributor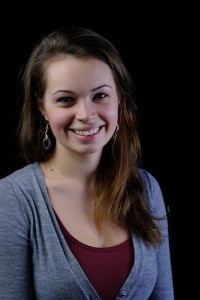 Haley Sawyer, Assistant Sports Editor
Haley is a junior communication major with a concentration in journalism.  She is involved in both print and broadcast journalism at the Academic Media...