Painting demands attention to detail from the artist. It takes a special eye and a love for the process to create original artwork. As an avid painter, Cindy Paul, a part-time faculty member in social sciences at RMU, knows this all too well. Although she doesn't paint as much as she would like, Paul is deeply passionate about each of her projects.
While art has always been important to Paul, she experienced two nearly simultaneous losses a few years ago that initially saw her turning away from the canvas.
"In 2014, I lost both my mother and my brother, Dan," Paul said. "They passed away within weeks of each other. I was devastated. I was grieving and very depressed. I wasn't painting anymore."
Others recognized that this important part of her life was being ignored, and through the encouragement of her brother's friend, she picked up her brushes again. Paul did not have a plan beyond that one painting, but the act of creating something beautiful had significance for her family members.
Story continues below advertisement
"I painted his portrait and then painted a portrait of my mother," Paul said. "I gave my brother's portrait to his wife as a gift, and she loved it. I gave my mother's portrait to my stepfather who was also pleased."
Painting their portraits had a big impact on Paul, too. It allowed her to deal with her grief, and it reminded her how important it was to have the creative arts in her life.
"It helped me to find a way to celebrate them and to show that I am grateful that they were in my life," Paul said. "From there, I wanted to continue painting because it made me feel better. It is a way to express myself."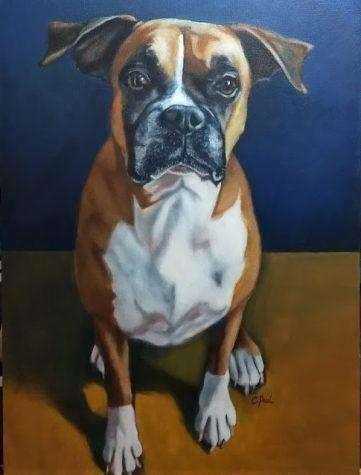 As a sociology professor, Paul spends much of her time making sure students understand both how society works and how they can have a larger view of the world. When she finds time outside the classroom to recharge, she uses this renewed energy to create something related to the things she enjoys.
"The focus of my paintings is usually a loved one, whether it be a person or a pet," Paul said. "I always try to paint something that pleases me, that I would want to hang in my own home. Lately, I have been painting dogs. I love animals, and trying to capture their likeness is something I find challenging and exciting."
Even when a painting is done, it isn't really finished. The process is very personal to Paul, so she needs to live with each piece before sending it off to its new home. It will hang on one of her own walls to ensure that it doesn't need one last touchup before she says goodbye to it.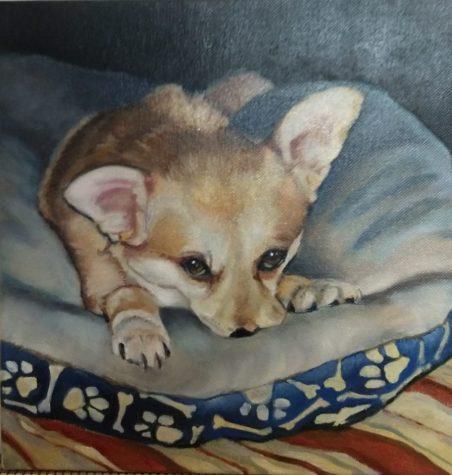 Attention to detail is apparent in Paul's artwork. It allows her to create an object of beauty based on the inspiration she feels for the medium that she loves so much.
"It is an outlet that lets me be creative," Paul said. "It is a way to express myself and gives balance to my life. There is family, teaching and art. I like being able to create something that pleases myself and hopefully, along the way, pleases someone else, too"