The Disney College Program welcomes RMU students
The Disney College Program is a way for RMU students to have a magical internship.
MOON TOWNSHIP — For students at Robert Morris University, internships are an integral part of the college experience. Giving students real world experience and a foot in the door at major companies, opportunities become available that will benefit any major.
For RMU students Jessica Boothe and Nicole Olinger, their internships did not take place in a gray office space pushing pencils. Instead, their work experience took them to Orlando and the magic of the Disney College Program.
"I have been coming to Disney World since I was six months old," said Boothe. "I have always been in love with the magic; I was determined to help make magic for others."
Boothe is a junior communications major with a concentration in theater. Her internship is structured around Disney's unique way of storytelling, making her a part of each guest's experience in the parks.
"I am a tour guide with Kilimanjaro Safaris in Disney's Animal Kingdom," said Boothe. "I drive 50-feet trucks through our wildlife reserve and share facts about the animals we see along the way."
Olinger also joined the program out of love for the Disney company. After visiting the parks in 2012, she was determined to become a cast member at the "Most Magical Place on Earth."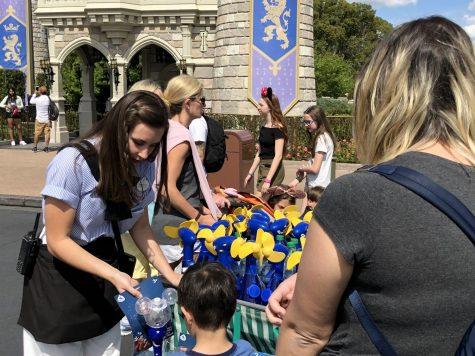 "I always knew I wanted to work for the company even when I was little," said Olinger. "I learned about this opportunity and since then knew that this is where I wanted to go."
While she may not work on a ride, Olinger is an important part of the guest experience. Her first term was spent as a lifeguard for the Contemporary Resort, which is located just outside of the Magic Kingdom park.
"That role I spent hours in the sun, getting a nice tan I might add, while watching water and saving lives," said Olinger. "There were many times I had to jump in after a child that couldn't swim and save them. That job was extremely stressful, but honestly so much fun."
Now a member of the team at Big Top Souvenirs, located in the Magic Kingdom, she works the register for the store and makes sure foods are tantalizing for guests.
"At this location, I work on the registers (and) stock the floor, but my favorite spot is the production area," said Olinger. "I get to make the treats that are so delicious. I make the rice crispy treats, caramel apples, the caramel popcorn and get to decorate cake pops and different fruit."
While the opportunity to work in the sunshine and interact with guests may sound like a fantasy, students at RMU have the opportunity to join the program for credit in their major.
The Disney College Program takes place over five to seven months, with interns living around the Disney Parks area. Combining the Disney magic with job experience, the program allows RMU students to earn credits while working for one of the world's largest corporations.
"If you are a communications, marketing or hospitality major, you are generally able to earn credits while working at Disney," said Sheila Broman, who manages internships at the Professional Development Center. "Most students will work while taking online classes so they don't fall too far behind on their expected graduation."
According to the program's syllabus, student's coursework includes studying Disney's traditions, how the parks operate, line of business training and on site experience working throughout the parks. These lessons all extend the same principals students learn in their program at college into a real world company, introducing interns to how a company actually operates.
While the program gives interns critical work experience, it also brings experiences to grow as a person. In the case of John Locke, Senior Director of Student Activities and Leadership Development at RMU, his time at Disney changed his view of the work experience.
"My time at Disney was completely transformational to me as a person as well as a professional," said Locke. "I went to Disney World when I was seven years old and went back when I was 21. Every opportunity that arose down there I tried to take, from shadowing experiences to meeting with managers and taking extra shifts. I got a lot of professional development while I was down there, which has been instrumental to my professional career."
Locke worked at Disney's Hollywood Studios over 16 years ago, joining the Disney College Program during the spring semester of his senior year at RMU. Known as Disney's MGM Studios at the time, he worked as a cast member on The Great Movie Ride.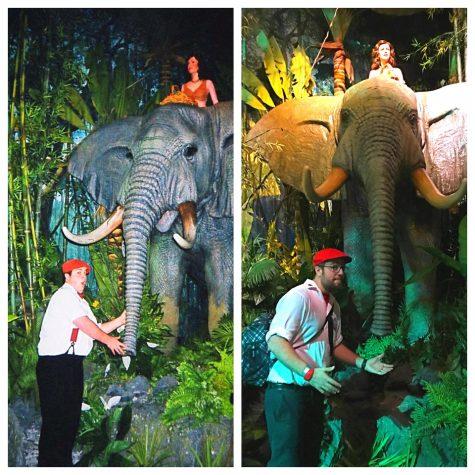 During this time, he learned Disney's "four pillars": safety, quality, show and equality. Applying these pillars to the university lifestyle, Locke still uses his training from the parks to make the student experience better.
"If it's not safe, it's not fun," said Locke. "We want to be a safe campus and anything I can do to make this campus safer I want to do. There is an expectation of quality at Disney World and their company, so you need to do your very best to provide that opportunity to them. I do my very best to meet the expectations that people have of our university."
Another benefit of the internship being hosted in Disney World is the multicultural experience provided by the parks. From visitors to employees, there are a variety of cultures interacting throughout the area in dynamic ways.
"My favorite part of this program has been all of the exciting people I have met," said Boothe. "My roommate is from Puerto Rico, my best friend is from Australia, and there are countless others who I get to meet through working in the parks."
For people traveling from other countries, the fast nature of an amusement park can be a daunting task to navigate and adapt to all the American amusement park norms.
"In my unique role, I get so many questions on what I am making," said Olinger. "Some guests think that the caramel is peanut butter or butterscotch, which in turn, I explain that its caramel and how we make it."
While this can be a great learning experience, it also provides unique opportunities and experiences you may not face in another workplace.
"Unfortunately when you can't speak the same language, it's hard to get your point across," said Boothe. "For example when on the safari, you need to stay seated. Many times non-English speakers don't understand this when you ask them to sit down."
Both Boothe and Olinger plan to return to Disney after graduation, becoming full time cast members. After their experience as interns for Disney, the sense of family and magic is something that they want to make a permanent part of their lives.
"I love my job, but it's the friends that I have made here that make me want to go into work so much more because we make it fun," said Olinger. "What makes the Disney Internship so special is the fact that you are held to a certain standard. So many guest come to Disney and have different stories to tell, it's a really humbling feeling to be able to listen to guest stories and interact with them."