Student Life hosts Nerf War in John Jay
For Student Life's Robert Nicholson, it was Nerf or nothing
John Blinn, Assistant News Editor
February 22, 2019
MOON TOWNSHIP- For many students, Nerf Wars were a staple way to spend weekends with friends during their youth. Bright yellow plastic guns, foam blue bullets with neon orange tips and an adrenaline kick flowing through your body as you took shelter define these iconic memories.
This was the feeling that Robert Nicholson, a student employee of Student Life, tried to recreate in the John Jay gymnasium over the weekend. Large foam pads were scattered throughout the gym. Pizza boxes and Nerf equipment, including foam headed bows and arrows, filled the bleachers for whatever student wanted to experience this nostalgia rush while on campus.
Nicholson came up with the idea of a Nerf Club–pitching it to John Locke, Senior Director for Student Activities and Leadership Development. The event was a way to gauge student interest in the idea, receiving numbers and feedback about future "wars."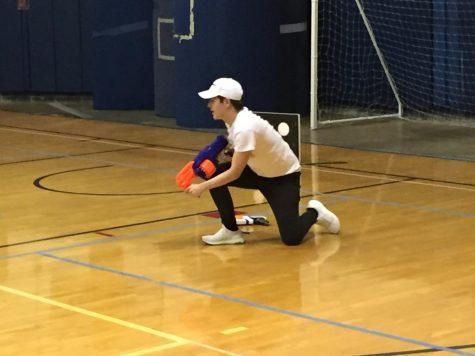 "I work for John Locke, who is the head of Student Life, and I wanted to pitch the idea of a Nerf Club to them for a while now," Nicholson said. "John Locke was like, 'Hey, do you want to just do an event, like a singular event?' so that's basically what this is?"
Multiple games were played at the Nerf War event, including: battle royale, team death match, capture the flag and single flag capture the flag. Nicholson acted as the referee for all of the events–judging whether or not players had been hit by a Nerf dart and eliminated.
"It sounded fun; it sounded like something we were missing," Nicholson said.
The event brought positive responses to the idea of Nerf Club as the event itself was well received and was well attended.
"All in all, I think I got basically the exact number that I wanted," Nicholson said. "Not too many, not too few and I think we all had fun today."
The event, which ran from 5 P.M. to 7 P.M., had between 15 and 25 people from the start to the end. This number worked out well for Nicholson and prevented him from having to sit anyone out.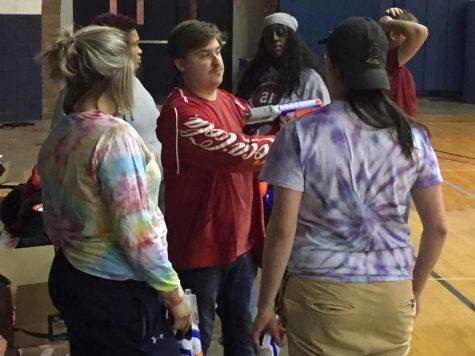 A lot of work went into the event between advertising and set-up. In fact, one of the most challenging parts of the event was the set up.
"The people who showed up early helped a lot," Nicholson said. "Just getting all of the material placed was a bit hectic, and I'd been doing that since around 3 P.M."
As for advertising, Nicholson took both a basic and also a creative approach to trying to draw people into the event. One of the biggest challenges in terms of Nerf Wars is picking up the darts after they are shot. He used this to his advantage when advertising.
"…Let's get ten Nerf guns, let's throw up some fliers, let's put up some signage, and I left a bunch of Nerf darts around campus with little pamphlet inserts in them," Nicholson said.
After the event, the idea of a Nerf Club could become a reality. Nicholson now has the equipment to perform these types of events, and overall, it seems like people would to see another.
"Everyone seemed to be having a ton of fun when they were playing," Nicholson said. "In terms of perception, I think that everyone had a good time."