RMU Proclamation: Sports and the dichotomy of winning and losing
What are sports?
I'm not looking for the simplistic and sarcastic answer to that question. That is remedial at the lowest level of thinking for the average sports fan. Sports are people playing for a living. Sports are groups of men and women joining forces to achieve the one goal that less than 10% get to realize.
To think that less than 10% understand the term "championship" is an astonishing number to say the least. Between all the nuances of athletics brings a relatively underground question to the table and has made this columnist scratching senselessly at his head.
What are sports truly about?
Ask anybody and the popular answer will be to win. It is all about winning and to defeat the opposing team in whatever sport being played. There is no love lost in athletics if the scoreboard reads your team as the victors. Don't be naive and toss out sportsmanship as a leader in games, it barely exists.
Adding even more to the plate, sports emulate a rich history of success and power. Alex Rodriguez is on top of the world, rather in the negative aspect. Any athlete can get anywhere in life with their ability to perform at the highest level possible.
While talents are high and mighty on a field, the innate characteristics to be a better person are lost. **See Ben Roethlisberger, Michael Vick, Aaron Hernandez or OJ Simpson**
Watching sports bring people together from all different backgrounds. Fans from all over the world recognize the power of athletics in the lives of many. In fact, some do appreciate and value sports over politics. Is it the right way to think? That's up to the person and their conscious.
Above is for the near-90% that get to rejoice and reluctantly shout their pervasiveness around others, sports are not always happy-go-lucky. More often than not, it rips your heart out.
Sports aren't about storybook endings. Sports are about heartbreaks, upsets, losing, gut-wrenching losses, and the failures of life.
You can't win every game. For example, RMU deserving better is the wrong choice of words. RMU deserved to lose the NEC finals because of the way they played. The way they played made them lose, and it so happens that Mount St. Mary's was clearly the better team, that night.
After letting Mount St. Mary's get to a lead of 10 or more, it was, in my opinion, destiny for the Colonials to fail, and that they did. Failing to adjust after the Mountaineers shot the lights out is just one of the reasons why RMU lost their third NEC championship in four years.
To stick with the college basketball theme, there are over 300 Division I programs, but only one team wins it all. That is an average of 15 men on that squad, including waterboys and managerial staff that raise "the" banner upon season's end. What happened to the other hundreds of players, coaches and even waterboys?
Each one has to endure a rough off-season without any gold or accolade to show for it.
The math is there to dictate during a collegiate basketball season:
As of the 2013-14 season, 351 schools have a NCAA Division I basketball team.
Roughly 10-12 players are on each team.
There is only one winner of the NCAA Tournament.
That calculates to .28% of players head home with the big trophy.
.28% reached the glory.
What is the point of all this pretentious drivel? Not everything is a fairytale that can be written in the history books as a Cinderella story. March Madness gets one mostly every year, but that team doesn't usually win the big one. This is just the reality of sports and as fans; we have to deal with heartbreak a lot more than happiness.
The Robert Morris Colonials will face Belmont in the second round of the National Invitation Tournament. After successfully defeating St. Johns in a roaring upset, Andy Toole's bunch may be down to seven after a potentially-serious injury to guard David Appolon's foot.
Taking out Appolon would leave the roster at seven. A number that is one less than eight on paper, but that one person counts for a starter and upwards of 20-minutes a game. His impact on games goes far beyond just that stat book as well.
There is a connection between the true meanings of sports for the Robert Morris Colonials.
Three out of the last four years, RMU has lost in the NEC final. Toole hasn't won a postseason tournament. Can you tell that this team suffered a major heartbreak a week ago?
Absolutely not.
Somewhere down the line RMU figured out the dichotomy between winning and losing. Because on the scoreboard there is always a loser, but in each individual's heart is where the true impact of sports is determined.
About the Writer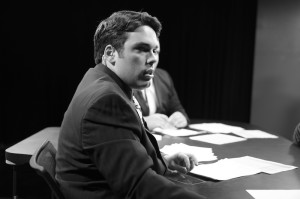 Jon Fisher, Social Media Editor
A senior communication major with a concentration in journalism.  Jon is a staff writer of the sports/opinons section and is the social media editor...