Humans of RMU: The swimmer
Imagine returning to the halls of your high school and still being remembered for accomplishing a record that no one else had matched. Remarkably, Samantha Monda, Ph.D. and RMU Associate Professor of Psychology, held eight of her school's swimming records.
Even ten years after graduating, she continued to hold one of those records at Avonworth High School. It might seem that athletic success came easily to someone who held so many records, but it wasn't always easy —requiring both extensive attention to detail and extraordinary dedication to reach that level.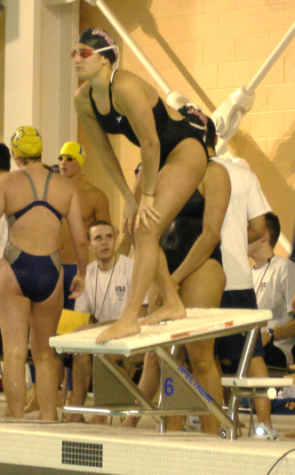 The idea to start swimming came from her parents, who were trying to get their third-grade daughter to come out of her shell by participating in the same sport they saw her cousin enjoying. Swimming also happened to be recommended by the doctor treating Monda for exercise-induced asthma as a way to help improve that condition.
"It was an exercise that wasn't painful for me, and I could breath well (while) swimming. (It) still felt like I was working hard and enjoying it, but more than that, it was the sense of accomplishment," Monda said. "I wasn't a very good swimmer when I started out, but I enjoyed it and liked it, so I kept working hard at it. I (started) to see improvements, making different cuts, and moving up into different groups."
The sport turned out to be the perfect fit for the young athlete, and as she became more confident in her abilities, she began hitting her athletic stride. More importantly, she grew as an individual.
"I realized swimming served a role more than just the sport," Monda said. "It really helped me to figure out who I was as a person, it made me a better person, and it also taught me a ton a of life skills. It taught me how to be dedicated, disciplined and work towards a goal."
As a specialist in the butterfly and breaststroke events, Monda's pool skills continued improving throughout her high school years. As she set records in the pool and doing her best work in the classroom while swimming, she realized that she had the opportunity to continue swimming in college. She also knew that it would ultimately benefit her academic career.
"To swim in college was a no-brainer for me because I got my best grades when I was in season and the structure was really good for me," Monda said. "It was part of your identity at that point. I was 'Sam the Swimmer,' and so, it was part of who I was."
The competitive nature of the pool and the challenge of the classroom worked together to bring out the best in Monda during college. In addition to being an Academic All-American at Carnegie Mellon University, she was one of the top swimmers in the country.
"My biggest accomplishment in swimming was in college," Monda said. "I made NCAA Nationals where there are certain times that swimmers have to make in different events in order to qualify for that meet, so that was a big deal to qualify in the 200 and the 200 butterfly."
Even today, swimming and sports are still a big part of Monda's lifestyle. As a professor, she even focuses her teaching and research on sports and exercise psychology. Despite becoming a mother for the first time last year, she also continues being physcially active.
"I'm not a swimmer anymore; I'm a swammer," Monda jokes. "I continue to swim once a week and sometimes twice a week. When I was pregnant, I swam twice a week up until about 34 weeks. I found this through my life that even when you're not participating competitively, (swimming is) a lifetime sport, and it's something that's still good for you. It's good for your body — keeping you fit and free from disease. When things are going on, whether its work stress or family stress, you just jump in the pool. It helps make you feel better."