Humans of RMU: The Athletics Intern
As a college sports fan, Andrew Miller, a sophomore at Robert Morris, has the ideal internship—he gets to attend every major RMU sporting event. While he was involved with the athletic department his freshman year, his role as an athletics intern this school year means that he doesn't just watch games because he is now responsible for part of what goes on behind the scenes.
"I help out as the marketing and promotions intern," Miller said. "My first job is to help organize, plan and execute all of the in-game and out-of-game promotions."
The athletic interns each have a number of responsibilities in the athletic program that might not be expected from their job titles. Miller is just like the others as he helps make sure that things run smoothly for the fans that come to watch the games.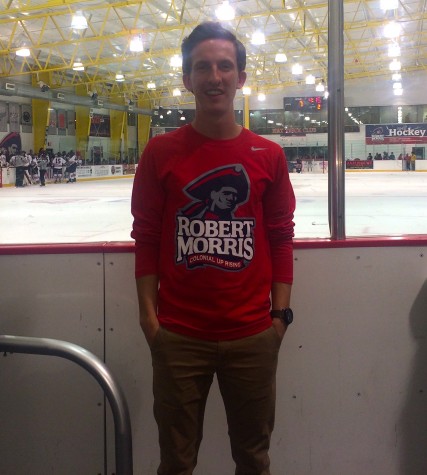 "I help support the operations taking place before and during the games, and I help with ticketing," Miller said. "I've also taken on the Colonial Up Rising team and have been the leading that group."
Miller is grateful for how much experience the internship is providing him in both athletics and marketing. He has been able to work with a wide variety of student interns, student volunteers, athletes, coaches, and staff members as he goes about his routine.
"I am able to see the insides of an athletic department and athletic teams," Miller said. "I have been able to take on marketing initiatives, and this experience has helped me find a passion for marketing, [which has led to build a] network of people that will help me as I look for other internships and jobs."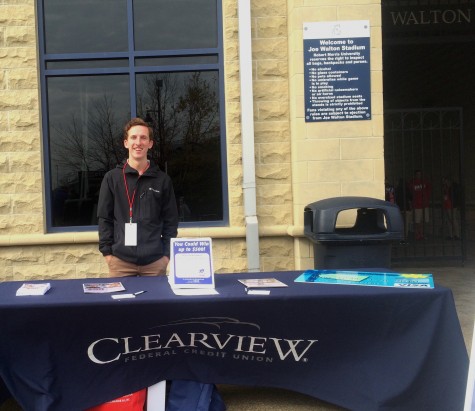 Miller takes his responsibilities seriously, and he finds that his internship takes up a great deal of time. There are days when he leaves his room early in the morning and doesn't return until that evening. Fortunately, he makes time to wind down despite all the demands that are made on him.
"Honestly, it gets very stressful at times," Miller said. "I always try to save a part of my day to do nothing but relax or hang out with friends. Down time is so important, and it helps me stay sane; however, staying organized and fine-tuning my time management have helped me so much."
For Miller, the rewards of the internship are many and he hopes to be able to return to the athletics department in another internship role next year. Out of all the things that he has had the chance to do as an intern, his favorite thing is the people that are involved in the athletic program.
"The best thing about my job is the people that I work with," Miller said. "We have become great friends, love to have fun and laugh together. Each person has helped me advance my career somehow, and that has [created] a network of people that will prove helpful as I move forward."