Humans of RMU: The aspiring author
As an adult, Dr. Chester Thompson, D.Sc., RMU's Director for Student Support and Community Outreach Programs, learned a family secret that would change his life forever. What came about through that experience has led Thompson to undertake the writing of a book about his life, but what he learned from the writing has proven to be a crucial part of dealing with its impact.
"As a way to sort of heal myself, my wife said, 'You ought to write it down as a diary,' and I started writing and that kind of helped me to reflect," Thompson said. "In a way, it kind of healed me."
Born in Costa Rica and raised there by his grandparents, Thompson moved to the Bronx as a 6 year old and lived in a two-family duplex with his mother. Upstairs, a man he knew simply as Uncle Calvin lived with his family including a boy and two girls of his own.
Growing up, his uncle was something of a father figure to Thompson who was able to take away from him a number of positive lessons about manhood and about being a father. He learned things that he now feels he has used to his own advantage. This led him to want to become the best man he could, which included time spent serving in the Marine Corps.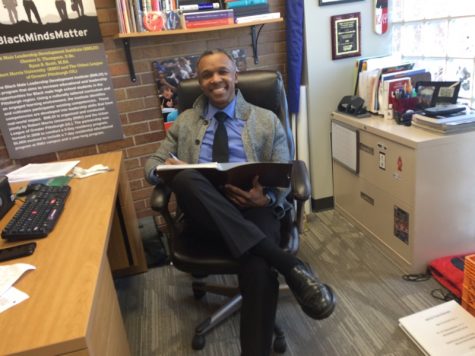 The relationship between Thompson and his uncle changed dramatically after his death. It was then that he learned Uncle Calvin was in reality his biological father. It was a truth that overwhelmed him and his family.
"It took me about two years to get over it and get through it," Thompson said. "Sadly enough, I never had the opportunity to talk to him. I didn't learn till after he had passed."
Understandably, the situation created feelings of anger and resentment that even strained the relationship he had with his mother. Through it all, he kept writing as a means of dealing with the truths he had learned and of healing his relationships.
Writing has proven to be a great therapy, and over the years, Thompson continued to come back to the telling of his own story. Despite all that time, he never felt that he was finished, so he has committed himself to a goal of finally completing it this year. From there, he plans to turn it into a manuscript and, hopefully, have it published as a book, "Through the Key Hole."
While writing helped him, it is clear that Thompson recognizes the importance of recognizing that there is a problem. It is a key part of getting the help needed to deal with the challenges that life may throw at you.
"When you have issues that you're wrestling with in here, you got to let it out," Thompson said. "You can't do it on your own; we're not designed that way. We're not a machine, so if you have something on your plate, reach out to a close friend [or to] family—get help because if you don't, it can really destroy you."