Humans of RMU: The psychology professor
Understanding one's self — who you are and why you are — can be a complicated process. In fact, knowing why you are programmed to do certain things can help you gain insight into who you are. Stephen Paul, Ph.D., who is now a professor of psychology, found his own career while he was figuring out who he was.
"I think like a lot of people who get interested in psychology, I was interested in learning more about myself," Paul said.
Paul graduated with his degree in experimental psychology from the University of Kansas in 1992. This does not mean he didn't have a setback or two along the way—much like most students face while obtaining their degrees.
"When grad school started, I assumed it was a Monday through Friday thing — no one said anything different," Paul said. "One of the early Saturdays, I was sitting at home in my pajamas, eating some ice cream and watching TV. The phone rang; it was my mentor. He said, 'You still go to school here? I don't see you here.' [I learned] graduate school for me was 10 until 10, Monday through Saturday."
Once his experience at graduate school ended, there was a limited pool of job options as he began his career. Not wanting a traditional "nine-to-five corporate" experience, the choice that made the most sense to Paul was to become a professor. Even though that decision seemed reasonable, it didn't start out as the best job for his personality. It turns out that he suffers from a profound fear of speaking in front of groups; the idea of doing this each and every day got him off on a torturous footing.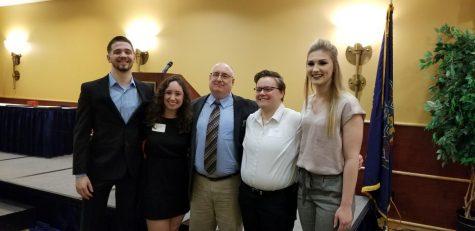 In order to become a successful teacher, Paul had to address the fear. He knew that one way to overcome his dread of public speaking was to be prepared, to be practiced and to always know what he's talking about. But, that was not enough.
"There's still that social anxiety that has to be overcome," Paul said. "The way I've done it is to try to be humorous, because I figure if people are laughing when I want them to — that's better than them laughing when I don't want them to, so I feel more comfortable — I feel like I'm talking to my friends. When people are laughing, I can pretend that they're my friends. It makes it a little less stressful."
While he accomplished his goal of managing stage fright, he now helps students at RMU accomplish their own goals. One way he does that is by supporting their research interests with his complete devotion, even over his own projects.
"For the most part, I've done what students wanted to do," Paul said. "The one time this semester that I'm doing something for me, I kind of gave to a student, also, so she could do a thesis. It's looking at conspiracy theorists — what's different about them from a psychology point of view. A conspiracy theorist sees patterns where most other people don't. Is that because of a better ability to detect patterns, or is there an unwillingness on their part to withdraw from recognizing a pattern?"
"The actual conspiracies themselves bore me, but I am interested in the psychology underlying why people do that."