Humans of RMU: The Storyteller
"I started telling stories a long time ago," Jeffrey Irvine said.
Irvine, a part-time member of the RMU Social Sciences faculty, remembers the first time he told a group of people a ghost story. As a college student and summer camp counselor, he discovered that he could engage them and build a rapport with them by telling a story. Whether it is in one of the Sociology courses that he teaches or as a professional storyteller outside the academic environment, Irvine's ability to capture a group's attention through storytelling has continued to this day.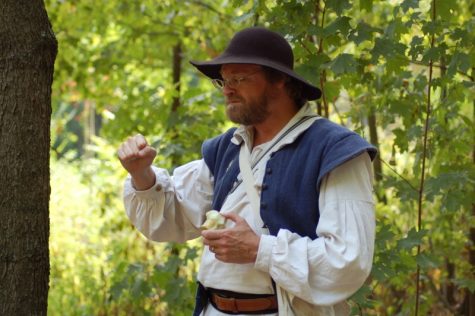 Telling ghost stories is a sought after skill during the Halloween season. Many libraries and haunted houses hold events that attract audiences interested in a good scare. It's a season that keeps Irvine busy doing what he loves.
"Ghost stories are some of my favorites," Irvine said. Last [October] was crazy with 23 performances over 27 days. That's the busiest I've ever been. This year will be a bit more typical. I'll probably do 10-15 ghost story events over the month."
By the time Halloween arrives, Irvine has had enough of telling ghost stories for the year, but he comes back to them year after year because it is where his storytelling began. Along the way, he realized that in retelling the story he first heard at summer camp that he was overcoming his own fears.
"Every time I'd think of the story, I'd get scared again," Irvine said. "I thought if I tried to work this up as a story to tell to scare other people maybe it won't scare me anymore, which actually worked. "
In many ways, ghost stories are a way for all of us to deal with fears and with downright scary things that life throws at us. It's not surprising that Irvine gravitated to scary stories given the ghostly sounds he remembers from his childhood. The sound of something moving around his house at night would wake up him and his dog. While in some ways the idea of a ghost in the house appealed to him, he had no intention of getting out of bed to investigate strange goings-on in the dark.
Just as in many cases, what was really happening had a more logical explanation; although it is still a really good story.
"Years, many years later, I realized my sister used to sleep walk," Irvine said. "I knew this cause I'd be up late watching movies on TV, and she'd come in, sit down on the floor beside me and stare at the TV for a while with her eyes open. But she wouldn't respond. She'd turn and go, or she would come into the kitchen to look for stuff and then go back to bed. It took me 20 years to connect that what I was hearing [from my bed] was my sister sleep walking—probably opening cabinets and shutting them—but because I was saying that it was a ghost and not going to check it out, I never caught her at. That's my real life ghost story."
Whether or not you believe in ghosts, it is not hard to get caught up in the telling of a ghost story. Even the true story of his sister's sleepwalking takes on a mysterious air of suspense. Everyone likes a good story and since at Halloween many also like being scared, it is easy to see why a professional storyteller like Irvine is in such high demand. It is a connection that he made when serving as a camp counselor back in his own college days.
"I believe ghosts make great stories," Irvine said.