Humans of RMU: The Tuch
Decades of RMU students have enjoyed the beautiful campus landscape, while Colonials fans have been amazed by the voice of an RMU staff member singing the national anthem. In an amazing coincidence, one single man is responsible for both. That man is John Tucci.
Tucci, better known as "The Tuch," started his career at Robert Morris nearly 24 years ago and is currently a member of the university's Grounds-Utility staff. With so much of his time spent outside tending to landscaping during the summer or snow shoveling in the winter, he is immediately recognizable to almost everyone—even if they don't know his story.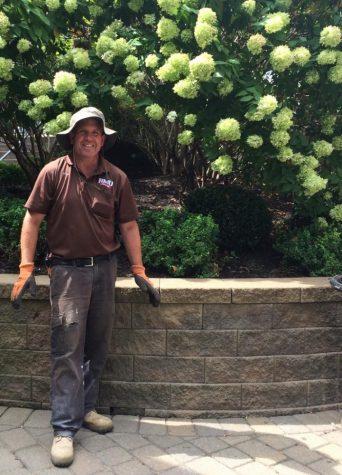 Over time, Tucci has come to love the community he serves, and the community has come to love him and know his friendly face. He relishes his experience here and recognizes the profound impact that it has on the people it touches.
"What's amazing is once people get to experience this place—whether they take a tour or whether they actually take some classes or they work here—they feel it's special," Tucci said. "A lot of students, even after they graduate, come back here to work or to raise a family in this area because this is such a special area."
Tucci learned early on that giving is better than receiving. It is a gift he has embraced as part of his daily life and never looked back.
"What I learned from my parents is just to show that kindness and niceness to people, and this really helps," Tucci said. "Just focus on showing kindness to people and love to people by your example. (By doing that), you can help so many people."
As a native and resident of nearby Sewickley, Tucci took his example from that tight-knit community, and he continues its tradition of giving back. A small sample of his volunteer efforts includes Meals on Wheels, The Salvation Army, The Society of St. Vincent de Paul, visiting the sick at Heritage Valley Sewickley Hospital and supporting local church festivals and Fish Frys. Even Tucci himself had to concede that he has been responsible for helping thousands of people over the years.
For most people, this extensive volunteer work would be more than enough, but with Tucci, it just begins to scratch the surface because it ignores the gift of his voice.
"The singing has become like a ministry," Tucci said. "I learned it here (at RMU), but we do it throughout the area, and it's like a community service. It's turned into an amazing way to inspire the youth and all age groups."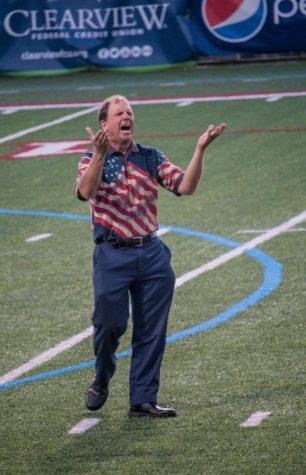 On campus, many students have heard him sing the national anthem prior to a sporting event, or they may have seen him perform at the annual Greek Air Band competition. However, what has made him known around the area is his travels to youth sporting events where he also sings the national anthem before their games. For young athletes and their parents who at best might hear a recording, it is an inspiring moment. After they saw him appearing around the area and singing before these games, the Pittsburgh Steelers made him a part of their documentary about the area's youth football associations and leagues, and they awarded him the McDonald's Youth Football Steeler Country MVP Award in 2010.
"They gave me the MVP award from the Pittsburgh Steelers signed by Art Rooney," Tucci said. "It was a real honor to get something so special. It made it really special to have a chance to see how much people appreciate what I do."
Beyond the award presented by the Steelers, Tucci has received numerous other awards for his public service including the SGA Staff Excellence Award. He clearly appreciates each of these honors, but he is quick to point out that the awards are not the reason he has devoted so much of his life to making RMU and the broader community a better place. His is a mission to inspire the best in us all.
"A lot of people see me for a few minutes or a few seconds, like when I'm working on the grounds," Tucci said. "I want to make sure those are the most positive experiences I can bring. I want to continue to be an inspiration to everyone and send a great message by my example."
"I've learned a long time ago that a lot of times (it is) the example that you set; you don't have to use words—just the way that you live can really inspire so many."