Humans of RMU: The Editor-in-Chief
Traditions are made to be passed down to the next generation. Megan Waleff, a senior at Robert Morris, has made it her mission to ensure that the moments in time experienced by her classmates have been captured, so they can share and enjoy them for years to come. Waleff works to achieve this mission by serving as the Editor in Chief of the Patriot yearbook.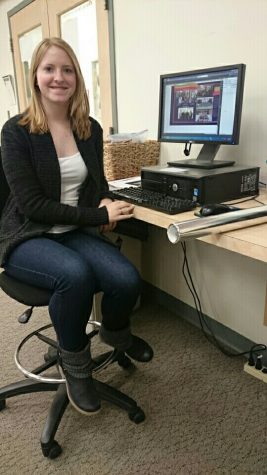 After joining the staff last year as a Section Editor, Waleff interviewed for this year's job of Editor in Chief. Her position has given her the opportunity to be more hands-on with all aspects of yearbook production for the 2015-2016 school year.
"I really love the fact that I have an impact on how people remember this year," Waleff said.
Most people don't realize that the staff has to put the yearbook together page by page, so they can meet the deadlines that ensure that it will be printed in time. It all begins with choosing a theme for the year, which the entire staff gets a chance to help decide. With all the work that goes into choosing a theme, getting photos, design and layout, and building the finished product, the process can be stressful.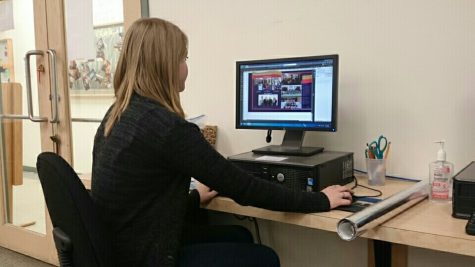 "The most difficult part is just trying to get everything done and adjusting to what big events happen during the year that we can't predict," Waleff said. "Last year, when the men's basketball team went to March Madness, we had to adjust the layout to make it fit."
As the school year goes on, events take place and the moments are captured for the graduating seniors—who will each receive a copy of the yearbook free of charge after receiving their degree. While most students are off enjoying summer vacation, Waleff and the rest of the staff will still be working a few weeks into the summer break, so they can produce the best possible product for the soon-to-be Colonial's Alumni.
"It's a big time commitment, so as the year winds down we go full force to ensure we get the book finished," Waleff said.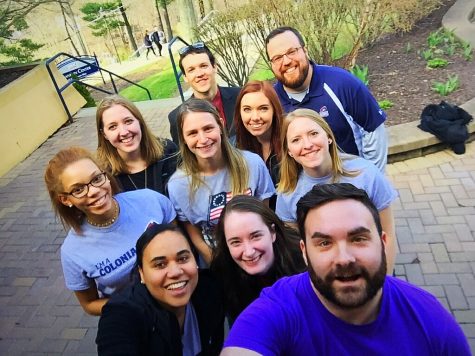 With a long list of tasks to be completed by the staff throughout the school year, in addition to their regular classes, they need to hold weekly meetings to make sure everyone involved is on the same page and is getting their assignments completed on time.
"Yearbook, honestly, is a lot of work but getting to be part of writing the historical record of the university is a great experience," Waleff said.