Humans of RMU: The musician
Inspiration to discover those things that you come to love in life can take many forms and come from many places. For a 7-year-old Heather Pinson, Ph.D., who is now the Department Head, Communications, an Associate Professor of Communication and an Associate Professor of Media Arts, that was the time when she decided her career would involve being a detective and playing the violin. One reason for making that choice was because her parents wouldn't let her quit, and the other was because of a famous literary character.
"I was reading Sherlock Holmes at the time, and he played the violin, so I knew when I grew up, I wanted to be a detective and I wanted to play the violin," Pinson said. "That's the only reason I stuck with it for such a long time."
As a junior at Samford University heading into her senior year, Pinson was forced to have surgery in order to repair an injury caused by over-practicing. At the time, she could not play until she healed, which then forced her to relearn the instrument she had grown up with. Through that process, she learned to improvise as a way of regaining the musical voice that was lost.
"It was the worst thing that ever happened to me," Pinson said. "I felt like someone had taken away not only what my career goal was, but a voice I [could] use for that. I had to relearn the instrument, and then I learned how to play jazz."
At the time, learning jazz also opened the door to other types of music. She learned to play the blues and country, performed in a zydeco band and was a member of The Heather Project, a New Orleans' funk band, whose name Pinson still finds funny. She is currently in two groups: a rock 'n' roll band and in a country classic-rock band. The former is a Dave Matthews tribute band, Antz Marching, and the later is known as The Fabulous Gunslingers. Performing almost every weekend keeps her busy, and she finds that it provides a break from grading student work and managing her departmental duties.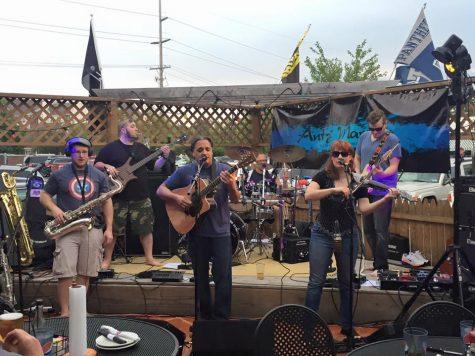 Dealing with so many musicians who have diverse backgrounds, political viewpoints and personal temperaments can be a difficult task, and it takes a unique set of interpersonal skills. It is an ability Pinson has been able to use to her advantage, which seems to go hand-in-hand with her ability to play with so many different bands.
"I'm a great people person, I can put people at ease, I can make them comfortable, I don't judge, I have good conversations with a CEO or a homeless guy—it just happens to be one of my strengths," Pinson said. "I'm not the most technically gifted in terms of musicianship, but I'm a chameleon—I can play any style of music that you throw at me."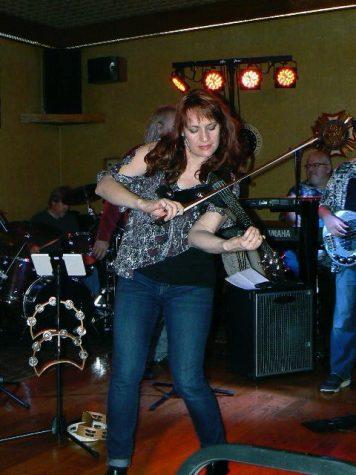 Even with her varied musical experience, jazz is clearly the most important of them all. The wall of her RMU office sports jazz great John Coltrane. She can drop a relevant anecdote about Miles Davis in the middle of a conversation, and she has published a book, "The Jazz Image," about the jazz-inspired photographs of Herman Leonard. It isn't surprising that her favorite band, Tower of Power, comes from that musical tradition.
"I love funk music; I'm an R&B girl," Pinson said. "I love old school rhythm and blues, so I love blues and I love jazz; that's my favorite type of music to play. I don't have a regular band that does that, but I go sit in a lot of places. One great blues joint, on occasional Thursday nights, is Sloppy Joe's. Its a small place, smokey, dirty, gross and the best music ever."
Playing the blues is a part of her history. While studying for her master's degree at Louisiana State University, she was a member of a house band in Baton Rogue that played the blues. Tabby Thomas, a well known blues musician, was the band leader, and he decided that she needed a nickname because she was one of his regulars.
"In the blues world, this is what you do," Pinson said. "[Thompson told me,] 'you know what; you are a little piece of heaven. We're going to call you "Little Evan."' So I was 'Little Evan' for a while, and that's how they billed me to play in the group. That was just one of my favorite times—just to be able to play blues on a regular basis and know everyone in kind of a family."
For Pinson, heaven is clearly any place that is filled with music.